While I use Instagram as well as Snapchat for looking at interesting stories! You know what I mean? Snapchat is more attractive in terms of spicy stories all over the web, and only due to the fear factor that snapchat notifies if you screenshot stories, So I knew if I need to do it, I need to search for workarounds, and here at my answer after research on – How to screenshot on Snapchat without them knowing? I got answer for not only Android phones but also for Apple iOS iPhone or iPad devices, all these workarounds which worked for me and as tested in Aug 2020.
So lets see all my workarounds step by step to Screenshot on Snapchat Without Them Knowing
All the workarounds given below are tried by me and confirmed that they work in Aug 2020!
Since Snapchat keeps continuously updating their algorithm and releases app patches, its possible that some of the workarounds may not work, if at all you notice that below method / methods not working, please intimate by adding comment below and I will update the post, also let me know if you are using better method or app or a recorder which can be useful to other friends reading this post.
However beware that Snapchat's privacy policy and support page make it clear that your snaps & /or stories are by no means safe from being saved by other users!
 

INDEX – Secret Workarounds

1
Android & iOS
Clear the phone App Data
Jump there
2.1
Android
Using a Screen Recording App
Jump there
2.2
Apple iOS
Use a Screen Recording – With Mac
Jump there
2.3
Apple iOS
Use a Screen Recording App – iPhone, iPhone X, XS, XS MAX AND XR
, iPad, or iPod touch – how to snapchat without holding button iOS6 & iOS11
Jump there
3
Android
Using the Google Assistant
Jump there
4
Android & iOS
Using the SnapSaver
Jump there
4.1
Android & iOS
Using the SnapCrack
Jump there
4.2
iOS
Using the SnapBox
Jump there
5
Samsung Galaxy Note
Using S-pen's Screen Write
Jump there
6
Android & iOS
Go simple – Use another phone!
Jump there
7
Android
Using recent app button – Latest TRICK 2020
Jump there
FAQ
1 Question : Is it illegal to screenshot a Snapchat story?
2 Question : Does Snapchat send screenshot notifications for stories?
3 Question : If you take a screenshot of an unopened Snapchat story is the user notified?
4 Question : Does Snapchat notify screenshots on chat?
5 Question : Why does my Snapchat say I screenshot when I didn't?
Jump there
Workaround 1)

Clear the phone App Data after taking screenshot [ 

Android

&

iOS

]
Online mode –
You take a screen snapshot on Snapchat, App system will immediately send notification to other user about the activity. So you can't take a screenshot in online mode without them knowing!
Offline mode –

Goto Airplane mode to switch off internet / WiFi connection

You take a screen snapshot of Snapchat story or image secretly, and App system can't send notification to other user since you are offline.
However in the background, Snapchat App will write this pending task in command log file, which will be executed by the App as soon as you switch to online mode! Which means the other user will still get delayed notification i.e. as soon as you go online mode.
So simplest way to prevent sending this (delayed) notification is to clear the IG log file 🙂
Which means the App will not be able to find the notification command in log, so it will also not send any notification even when you go online after clearing the cache.
But only negative using this method is that when you clear the App data (log file), the app will also forget your login credentials, and hence you need to re-login to Snapchat account, so some sacrifice is needed 😛
But I think this is very simple and effective workaround for secretly save snapchats, without need of any special external third party app or software or assistance.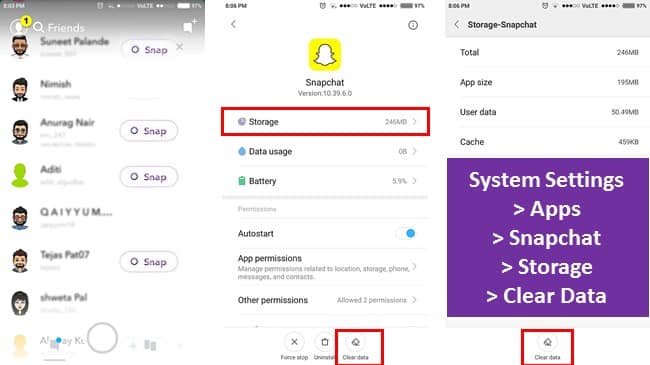 Here is the OFFLINE method to take screenshot, explained Step-by-Step
1) Open Snapchat, allow it to load the complete story or image.
2) Now turn OFF your internet connection, simply goto Airplane mode.
3) Open the story or image and take a screenshot [ Do not hurry to go online, read below steps ]
4) Go to the App cache setting and clear the data (see image below) – Go to System Settings > Apps > Snapchat > Storage > Clear Cache and Clear Data.
Pros
Cons
Works on Android & iOS
Have to log in after every time you clear the cache
No third party apps installation needed
Somewhat time consuming and tedious
Not even marked as "seen"
---
Workaround 2.1)

Using a Screen Recording App
[For Android Phone]
First solution of using a screen recorder, I will show you how it works on an Android phone.
This is due to the fact that Snapchat do not have capability to detect the screen recording App running in the background (as on Aug 2020). So in this case I am going to take help of this shortfall and load a screen recorder to make a video and later use it to take a snap of liked portion.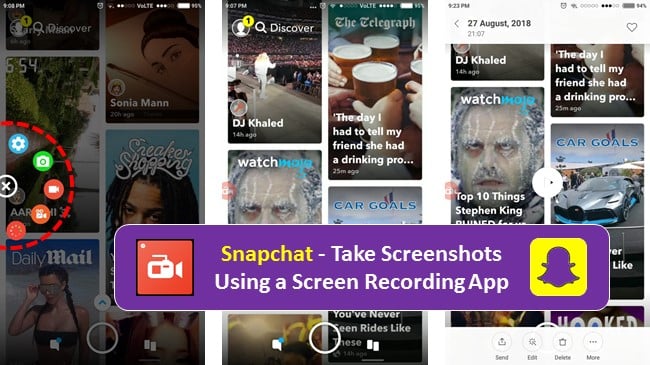 Here is Using a Screen Recording App to take screenshot, explained Step-by-Step
1) Goto Google Play Store and download any screen recording app.
Note : I am using AZ Screen Recorder App which works well without any Root requirements, its intuitive and easy to use interface app (See snapshot above working on Snapchat) – here is App Download link
2) Install and run AZ Screen Recorder to do initial settings like permissions etc. And you are ready to take snap.
3) Now open Snapchat, you will see faint icon of AZ screen recorder, press it to get a menu as shown in the above image. Select recorder from the Menu to start your screen recording.
3.1) Now whatever you do in the Snapchat will be recorded secretly in the background, any chats or stories that you view will get recorded to the local memory.
4) You can stop the recording at any point of time.
5) The complete activity is video recorded and saved to your gallery by this app.
6) Goto Galary or file manager to open up the recorded video.
7) Play the video and take as many screenshots as you like from the screen recording being played.
This method works best when you want to record a chat ( for some secret reasons 😛 )
Also it provides flexibility to record long chats or view many stories in a go, till keep recording, only keep in mind that long recording is going to consume the mobile memory. Also long video reviewing and taking snapshots is a cumbersome task, in fact I tried this method and spent lot of time in getting video recording shot for the perfect moment 😛
Tip : Set the recorder App to record video to the highest possible resolution to get the best results.
| | |
| --- | --- |
| Pros | Cons |
| Works on Android & iOS | Recorded video consumes huge mobile local storage |
| Works even when you are live chatting | Time consuming& tedious |
| Good for screening multiple stories at a single go | Capturing snaps of replayed video is a skill in itself! |
---
Workaround 2.2)

Use a Screen Recording App – Option 1, using Mac
[For Apple iOS Phone – iPhone  X, XS, XS MAX AND XR ]
In section 2.1 you saw hos to use screen recorder on an Android phone, but what to do on an Apple phone?
Don't worry, you still can use the same logic but only you need to have an iPhone and a Mac with a lightning cable.
Yes, using QuickTime's screen capture feature is a guaranteed way to capture high-quality Snapchat Story videos or pictures.
Its not at all easy! but yes, its a cumbersome technique, but again the most  efficient!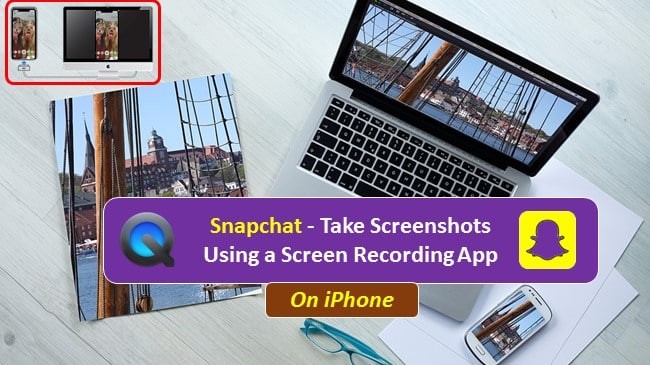 Here is Using a Screen Recording App to take screenshot, explained Step-by-Step
1) Connect your iPhone X, XS, XS MAX AND XR to your Mac
2) Open up QuickTime player
3) Choose File » New Movie Recording in the QuickTime menu bar.
4) Clicking the recording button will show you different recording options – Here you have to choose your phone as the Movie Recording input.
5) As soon as you select the phone, your iPhone screen will appears as-is on your Mac screen.
6) Hit the record button and then go to Snapchat, you are done, begin recording as many snaps and stories you like!
I loved this method due to the high quality capture done by QuickTime, I could play snaps to pick the perfect images to screen capture! much better than the Android experience.
Tip : If you have an iOS 11 phone, you get a screen recording feature that you can use for this purpose without downloading anything 🙂
Pros
Cons
Works on iOS
You must have a Mac
Works even when you are live chatting
You need to be wired to do all this stuff
Good for screening multiple stories at a single go
---
Workaround 2.3)

Use a Screen Recording App – Option 2, how to snapchat without holding button on iOS11
[For Apple iPhone, iPad, or iPod touch]
1) Go to Settings > Control Center > Customize Controls, then tap next to Screen Recording.
2) Open Control Center and Tap Record, the the three-second countdown begins.
Note :  To capture sound while you record, press deeply on and tap Microphone Audio.
4) To stop recording, open Control Center and tap . Or tap the red status bar at the top of your screen and tap Stop.
5) Your screen recording gets saved automatically to the Photos app.
Note :
Many websites have specified above method to record Snapchat story or photos, however please note that even you use iOS 11's screen recording feature, SNAPCHAT still notifies the other user saying someone "took a screenshot!" of either your photo or video. Only as on now it is not able to detect if the story has been fully recorded or not.
Read Apple guide on using recording in iOS11
How to Record a Hands Free Snapchat Video on iOS6?
Since Snapchat allows you to watch videos without holding the screen, similar ways iOS6 allows you to  record all your snaps without touching the screen.
1) Go to phone Settings, tap Setting > General > Accessibility > Assistive Touch
2) Turn Assistive Touch ON, and now tap on Create New Gesture.
3) Blue bar will appear on the bottom of the screen, now Press and hold on the screen until the blue bar finishes.
4) It will ask to provide Gesture name – provide suitable name such as "without holding hands"
5) Open Snapchat app and tap on the little transparent circle icon and select "without holding hands"
6) Drag this black circle icon to the Snapchat record button and it will start rerecording in hands free mode.
Note: for iOS11 users I have already given separate method above.
Go back to Index
---
Workaround 3)

Using the Google Assistant [For Android Phone]

For an Android phone owner this is the easiest and fantastic way to take screenshot of any Snapchat story or chat without generating any automatic notification!
This is easy since it works only on your voice command and always ready to listen to you 🙂


Here is Using the Google Assistant to take screenshot, explained Step-by-Step
1) Install  Google Assistant (if not available on your phone, yes – even to save space once upon a time I removed it)
2) Open the Snapchat App and view the story or the picture you want to screenshot.
3) Simply call the Google Assistant by saying the magical words "Ok Google" or alternatively by holding down the home button.
4) Ask the Google Assistant to take a screenshot by saying "Take a screenshot" or "Whats on my screen" or simply type it out.
5) Google assistant will give you various sharing options like sharing with someone else or uploading to Google Photos, select one suitably. Unfortunately Google assistant does not save the screenshot to your local drive 🙁
Pros
Cons
Works on Android
Screenshots can't be saved directly to the gallery
Simple, intuitive and fast
No third party app needed to be installed
But I have old mobile or old Android OS version without any Google Assistant what should I do?
Don't worry, even if you don't have the Google Assistant get the free app Copy (Text & Screenshots)  Which works almost like the Google Assistant, where you can call it by long pressing the home button and clicking on the image icon to take a screenshot.
Go back to Index
---
Workaround 4)

Using the SnapSaver [For iOS & Android Phones]

Some Apps are specially designed for this purpose only.
Now SnapSaver is recommended for using on an iOS as well as Android phone, which again allows secret screenshots of anyone's Snapshot pictures 😛
This is something like starting a photo session, take pictures anytime during the session, and the pictures directly goes to built-in gallery.
Here is Using the SnapSaver App to take screenshot, explained Step-by-Step
1) Install SnapSaver App from Google Playstore. OR Download SnapSave for iOS
2) Open the Snap Saver app and start a session.
3) You can select desired option like Screenshot, Screen Recording, Burst Screenshot and Integrated.
4) Now open Snapchat App, start viewing snaps or stories you want to screenshot secretly.
5) Simply Click on the pop-up camera icon on your screen and take a screenshot.
6) Once you are done taking multiple snaps, go back to the SnapSaver app and end the session.


Good thing is that this SnapSaver app has its own gallery to view all the screenshots or screen recordings that you have taken. The App also provides a many options and settings to choose from and is overall a proven method to screenshot without knowing the other person, here you need not logout from the SnapChat or clear the cache!
Further you have an option to share the screenshots directly from the App gallery.
Pros
Cons
Works on iOS and Android
You get ads in the free version
Simple, intuitive and fast
Screenshot, Burst Screenshot, and Video
In-built gallery
---
Workaround 4.1)

Using the SnapCrack [For iOS & Android Phones]

This is another good App used as Snapchat saver, which is highly efficient in copying received pictures and videos without the sender knowing.
SnapCrack App is available for both iOS and Android phones.
The App not only helps you to save the snaps with single tap, but also helps forwarding them to other friends 😛
Step-by-Step guide
1) Download Snapcrack Download SnapCrack for iOS   /    Download SnapCrack for Android [latest check on Sept 2020 – Android app does not work!]
2) Install Snapcrack on your device
3) Log-in to the app using your Snapchat credentials
Note : You will be automatically logged out from Snapchat.
4) App will fetch data from Snapchat and ask for authority to use your data. After approval you will get similar interface like Snapchat
5) Now you can see and save any snaps send by your friends by a simple "Save" button tap.
6) Goto the "Stories" section to view all the stories and tap on the "Save" button to save the story to your phone memory.
Pros
Cons
Works on iOS and Android
Plz note that this App is not authorized by Snapchat inc. So your account may get banned to violate the conditions of Snapchat. 
Simple, intuitive and fast
stickers and doodles are available
---
Workaround 4.2)

Using the SnapBox [For iOS Phones]

This Snapchat saver app is called as SnaBox and works only on iOS,
SnapBox allows you to save every Snap and Story of your friend without his knowledge. Snaps being saved to local device, can be accessed as and when needed.
The App not only helps you to save the snaps with single tap, but also helps forwarding them to other friends 😛
Step-by-Step guide
1) Download & Install SnapBox to your iPhone Download SnapBox for iOS
Note : Look for Snapchat ghost in an open box icon (see below)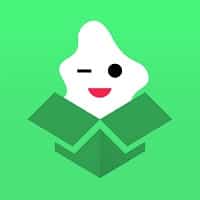 2) Log-in to the app using your Snapchat credentials
3) Now as soon as you get a notification for a new Snapchat, first open the Snap in Snapbox app, the snap will automatically saved to device and accessible any point of time opening the Snaobox snapsaver app.
| | |
| --- | --- |
| Pros | Cons |
| Works on iOS | This app is not authorized by Snapchat, so there is risk in using to get banned. |
| Easy to use | Doesn't save video to camera roll |
---
Workaround 5)

 Using S-pen's Screen Write – Applicable only for Samsung Galaxy Note

Note that this workaround is applicable only for Samsung Galaxy Note model.
You can simply use the built-in feature of he S-pen's Screen Write or Smart Select feature to take a snapshot of the Snapchat screen and good thing is that the screen capture is not notified to the sender even while using the Snapchat App.
Go back to Index
---
Workaround 6)

 Go simple – Use another phone!

Looks stupid! But most of the people have multiple phones at home!
So KISS (Keep it Simple Stupid) – Simply use another phone or tablet to take a snap!
Of-course needless to say that this workaround is the most simple but looks to be used only if you don't have time to play around the other hacks enlisted in this post to screenshot without detection.
However when you "screenshot" Snapchats using this method, the video or photo quality isn't going to be that great 🙁 No one ever can keep the hands steady to capture a decent footage, also there will be an issue of glares of screen and the quality of the phone's camera will matter.
Go back to Index
---
Workaround 7)

Using recent app button – Latest Snapchat TRICK 2020

As you all know that all Android phones have facility to show resent apps that you have opened it can be seen by pressing the Home button or left of home button on some phones (depending upon model it will vary)
However pressing Recent Apps will show other windows too (partially), hence first step what you need to do is to close / clear all recent apps from the history of Phone.
Here are the Step-by-Step explanation –
1) Clear all recent apps from background by pressing clear button "X".
2) Now you can open snapchat App.
3) Stay on the photo or story you want to secretly screenshot.
4) Now press recent app button on the bottom of your mobile screen.
5) In case the story or snap runs out of time, simply replay the story / snap & immediately press recent app button.
6) Capture snapshot of the screen using standard methods of Android, use Power + Volume button or any other method given on m website depending upon model of your phone.
This is fantastic method, where the other user will only get simple Replayed Notification and not the snap notification.
Go back to Index
---
Story behind writing this screenshot hacking post!
SnapChat launched as an app called Picaboo in July 2011, later rebranded as Snapchat.
One of the most powerful feature making this App so famous within such a short timeperiod was –
No matter what snaps & videos you sent out — silly selfies, scandalous, saucy, stupid, or sexy — recipients were not able to screenshot or store your snap without your knowledge!
What it means is that when you upload pictures and videos or send them to friends, they will expire after a few seconds, so you can send embarrassing or funny pictures of yourself without thinking much.
Now you know its human tendency, that if you present them doing something, it will be attempted number of times in numerous ways! Literally from the day this App launched, thousands of people tried breaking this rule.
While I do use Snapchat as well as Instagram, if you ask me which one I like the most, I have two answers … I like snapchat if I want to look at some real spice and I like Instagram if I need to see real nature related stories from my friends and web. Organically Snapchat has became farm of spicy, sexy photos! this may be due to the fact that due to fear factor, people don't screenshot your stories, that make people posting anything they like. Also these stories disappear not leaving any solid proof which can be trouble later.
Since that day, till today in 2020, I mean seven years down the line, people are still trying to get around Snapchat's anti-screenshot feature any way they can.
So not only me or you, almost everyone on this earth is asking the same question: How the hell can I screenshot on Snapchat without being notified?
And mind it, not only iOS users but also Android users are equally trying it hard to secretly screenshot!
Following are the most famous asked questions over internet in the year 2020 –
– How to screenshot on Snapchat without them knowing Android & iOS?
– How do you screenshot Snapchat without them knowing iPhone?
– How to screenshot on Snapchat without them knowing Android?
– How to screenshot on Snapchat without them knowing iOS?
– Snapchat screenshot hack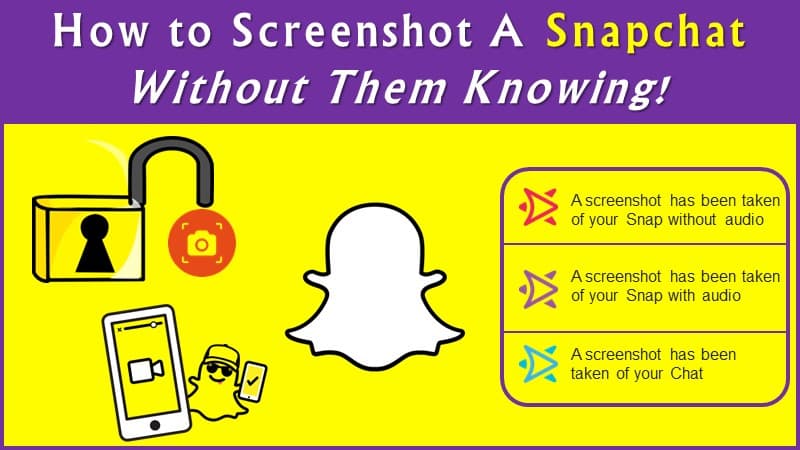 So anyway enough methods now for trying at home ..
Now lets go to FAQ section where I have tried to answer many queries from people around the globe.
---
FAQ Section:
FAQ.1 — Question : Is it illegal to screenshot a Snapchat story?
"Under UK copyright law, it would be unlawful for a Snapchat user to copy an image and make it available to the public without the consent of the image owner"
It is illegal to screenshot Snapchat picture messages and pass them to others on without consent, the Government's culture minister Ed Vaizey said anyone who who screenshotted a Snapchat message and shared it with others could be sued by its original sender – and face a prison sentence. ( Source News – independent.co.uk )
In-general, copyright is always held by the original content creator and hence if you capture it and repost it without their consent or republish it, you can be caught by the laws of most of the countries in world, however if you keep it to yourself without knowing anyone else on this earth! then its perfectly fine 😛
FAQ.2 — Question : Does Snapchat send screenshot notifications for stories?
Yes, there is a icon notification shown in the analytics portion of the app, the screenshot icons will be shown in different colors, to notify if the screenshot has been taken of your snap with audio, without audio or chat.
See the image below to understand kind of notifications sent by Snapchat
A screenshot has been taken of your Snap without audio
A screenshot has been taken of your Snap with audio
A screenshot has been taken of your Chat
FAQ.3 — Question : If you take a screenshot of an unopened Snapchat story is the user notified?
No. If you have not opened the story, no notification will be sent by Snapchat. And hence if you take screenshot of an unopened story using any of the above methods, the user will not get alert.
FAQ.4 — Question : Does Snapchat notify screenshots on chat?
Yes, if you take screenshot of a chat on Snapchat, notification will be shown on the shown in the analytics portion of the app of the person with whom you are chatting. See the image snap above which shows light blue color notification icon shown by snapchat.
FAQ.5 — Question : Why does my Snapchat say I screenshot when I didn't?
FAQ.5.1 — Well this can be because your Snapchat app is misbehaving for some unknown reason. Try uninstalling and then re-installing Snapchat. Check if issue gets resolved.
FAQ.5.2 — Sometimes malware on your phone can do some dirty tricks like taking screenshots and saving them in the background without your knowledge  (i.e. Not in your camera roll or image section) If such case, try to run some anti-virus or anti-malware software on your phone.
---
Bottom line:
So considering user demands I have jotted down the tested and proven workarounds to Screenshot on Snapchat Without Them Knowing in 2020.
All above methods are working perfectly fine till they are patched by Snapchat! Till then enjoy!!
Now if you are using a special secret technique which you wish to share with me or other readers, please feel free to comment or send me a mail!
Important thing is that in case you are using some workaround apps to login using snapchat credentials, you carry lot of risk of getting permanently banned by Snapchat due to violation of terms and conditions, so think twice if it is really that important to try such unauthorized apps.
Hope this helps!
Cheers!!